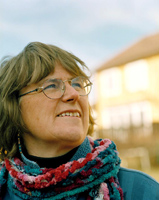 Karin Fridell Anter
Noreens väg 71
752 63 Uppsala
070-769 40 17+46 70 769 4017
karinfa(a)explicator.se
I am an architect SAR/MSA with a PhD in Architecture, attached as docent to the Royal Institute of Technology, Stockholm. My speciality is colour in its architectural and spatial context. See short CV
In my  research I have dealt with many different aspects of colour such as:
- colour perception on facades
- architectural colour from a historical viewpoint, in Sweden and Roman Pompeii
- the spatial interaction of colour and light.
See list of publications in other languages than Swedish.
I have written and edited several books on colour in architecture – most of them only in Swedish. See list of books.
I give lectures and courses in Swedish and English and have participated in many international conferences. At the congresses of the AIC (International Colour Association) in Granada 2005 and Sydney 2009, I was an invited speaker. For the AIC conference in Stockholm 2008, I was chair of the program and scientific committee.
My work as a colour consultant includes colour selections for the large paint manufacturer Alcro, who have also produced a film where I present my research on facade colours.